"News is the propaganda of the truth" -MJS
HEADLINERS  "Google"  SECTION

HEADLINERS  "CNN"  
SECTION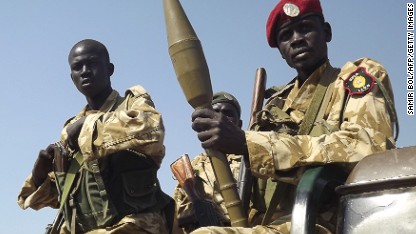 East African nations had set a deadline of today for the two sides fighting in South Sudan to talk. Instead, they battled in the key town of Bor, undermining efforts to bring more than two weeks of violence to an end. FULL STORY

A Dhaka court on Tuesday ordered the arrest of six people, including the owner of Tazreen Fashions Ltd., after a fire in the apparel factory left 112 people dead last year, officials said. FULL STORY

Part of a picturesque toll highway that tourists use to travel between the Mexican towns of Ensenada and Tijuana collapsed, civil protection officials said.
Latest Stories
Villagers in Guyana work together to build a library with donated books and computers.
At least 17 people died and about 55 others were rescued after a boat capsizes near the Turks and Caicos Islands. 33 of rescued will be repatriated to Haiti.
Guatemala's new anti-impunity commissioner, Ivan Velasquez, arrived to the Central American nation in October with an ambitious agenda.
Death toll from attacks in Russia's Volgograd rises to 34 as Australia announced limits on the movements of its athletes during the Olympic Games. FULL STORY |RUSSIA VOWS 'TOUGH RESPONSE' | RUSSIAN INSECURITY  


South Sudan's president and former vice president have agreed to a cessation of hostilities and to peace talks, an East African trading bloc said Tuesday. FULL STORY | KIIR: AFRICA SHOULD HAVE HELPED  

 | ON EDGE  


Israel released 26 Palestinian prisoners Monday in a gesture of goodwill between the two sides, days before a visit to the region by U.S. Secretary of State John Kerry. FULL STORY | VIDEO  


HEADLINERS  "MSN"  
SECTION
What a year: Stunning photos highlight 2013

Our selection of the most iconic, stunning and representative images of 2013.

Thai PM seeks reconciliation despite protest threats

As Thailand's prime minister posts a Facebook message asking for a peaceful solution to the country's crisis, protesters threaten to shut down Bangkok.

Iran official: Progress in nuclear talks with powers

In a third meeting, which lasted nearly 23 hours, world powers and Iran again sought specifics on Iran's curb of its nuclear program and lifting of sanctions.

Northern Ireland talks end without deal

All-night talks chaired by U.S. peace envoy Richard Haass have failed to produce an accord in Northern Ireland.

NAFTA didn't close Mexico wage gap after 20 years

It's hard to remember the country before the North American Free Trade Agreement but a majority of Mexicans have seen little benefit in income.

Religious extremism blamed for Xinjiang attack

Xingjiang police say nine suspects who may be responsible for a recent "terrorist attack" in which eight people were killed may be Muslim Uighurs.

Fighting erupts in South Sudan flashpoint town

Despite a deadline for an end to hostilities nearing, South Sudanese forces fought rebels on the outskirts of the flashpoint town of Bor.

China president sets off steamed bun craze

President Xi Jinping shocked patrons and restaurant staff when he visited the restaurant on Saturday, paid for his food and carried his own tray.

French priest kidnapped in November freed

France President Francois Hollande's office confirmed that a priest kidnapped in Cameroon in mid-November has been set free.

Israel frees Palestinian prisoners, pushes settlements

Most of the 26 inmates freed were convicted of killing Israelis and almost all were jailed before the first Israeli-Palestinian interim peace deals were signed.

'Inhuman' Greek prison system collapsing

As Greece melts down economically, its prison populations are surging as funds are shrinking, a toxic mix that officials warn could explode in violence.

Congo's army repels attacks, dozens killed

Government officials said the assault was carried out by untrained youths with aged military equipment and appeared to be more of a political statement.

Myanmar to free most political detainees by end of year

Myanmar's reformist president granted a pardon Monday to people convicted of or charged with a variety of political offenses.

Egypt holds 4 journalists for 'false news'

Four Al Jazeera journalists were arrested in Egypt after the network was accused of broadcasting illegally from a hotel suite.

Will the Olympics be safe in Russia?

The violence in Russia raises security concerns before the Olympics, which start on February 7 in Sochi.

China says Japan PM not welcome after war shrine visit

Ministry spokesman Qin Gang said Japanese Prime Minister Shinzo Abe's visit to the Yasukuni shrine in central Tokyo had seriously hurt relations between the countries and shut the door for dialogue between their leaders.

In a selfie, a slain Lebanese teen's last moments

Mohammed Shaar, 16, was one of seven people killed in a car bomb that ripped through the upscale downtown district of Beirut on Dec. 30.

El Salvador volcano emits more ash, gases

There were no immediate reports of injuries in the San Miguel region, where the volcano is located.

Scenic Mexico highway collapses after small earthquakes

Aerial video shows a dramatic scenic highway collapsed along Mexico's coast connecting Ensenada and Tijuana.

Israel likes a party but is torn about New Year's

Almost everyone has to work the next day, giving the whole enterprise a somewhat underground, guilt-ridden feel.

Bahrain says weapons seized, car bomb defused

More than 65 people have been killed in violence in Bahrain since protests led by the country's Shiite majority began in Feb. 2011.

Japan's homeless recruited for nuclear cleanup

Short on workers, the world's biggest nuclear cleanup project at Japan's Fukushima plant includes homeless people being paid less than minimum wage.

Nazi-looted art found in German parliament: Report

The Bundestag said an art historian was reviewing two "suspicious cases" of Nazi-looted art, but a spokesman would not confirm the find.

2nd blast in Russian city kills 14 on trolleybus

The explosion came a day after a suicide bomber killed at least 17 people in the main railway station of Volgograd.

70 journalists killed on the job in 2013: Report

The Committee to Protect Journalists, which tracks deaths of reporters and broadcasters, says most journalists killed in 2013 were covering Syria's civil war.

China bans officials from smoking in public

New rules in China, which anti-smoking campaigners hope will help usher in a national law banning smoking in public places, call on officials to lead by example.

Some with Alzheimer's find care in far-off nations

Some experts say uprooting people with Alzheimer's will add to their sense of displacement, though others say quality of care is more important than location.

Russian bombs spark fears ahead of Olympics

The Russian city of Volgograd has been hit with two suspected suicide bombs in two days.

Shots fired at German envoy's Athens home

At least four shots hit the metal gate of the high-security residence in the Greek capital early Monday morning.

Italy's garment workshops boom, workers suffer

Police are cracking down on a garment industry that is booming but blighted by illegality and sweatshop conditions.

16 killed in suicide bombing in Russia's south

The second deadly attack in southern Russia in three days will bolster fears of attacks by Islamist militants as Russia prepares to host the 2014 Winter Olympics.

Libyan oil guards threaten to block gas pipeline to Tripoli

In a new sign of protest, members of the Petroleum Protection Force said they might block a gas pipeline running from the east to Tripoli.

Police say 8 dead in terrorist attack in China

Police in China's western region of Xinjiang say they killed eight people during a "terrorist attack" Monday on a police station.

$0.60 for cake: Al-Qaida records every expense

Al-Qaida is obsessed with documenting the most minute expenses in parts of the world like Afghanistan, Somalia and Iraq, recording purchases as small as a single light bulb on scraps of paper and Post-it notes.

Fear pulses through crowded S. Sudan refugee camp

The United Nations estimates at least 180,000 people have been displaced during the 15 days of fighting in South Sudan.
HEADLINERS  "HUFFINGTON"  
SECTION