Last Generation

Network News
December 6, 2013
 FRI
DAY-
 Tevet 
 3, 5774
               5am-12-5pm                                                                                                                                                                     Vol I. No.8
"Facts are not reported, they are self evident" -MJS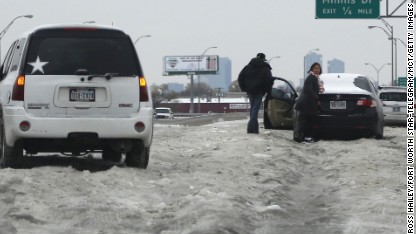 Thousands of flights have been canceled and roads have been deadly as an ice storm has moved across the U.S. The East Coast could see the worst of it today. 
FULL STORY
As Texas thaws from its bizarre freeze, East Coast states accustomed to ice could see much of it Monday. FULL STORY | SNOW IN VEGAS?
Temperance group targets marijuana in Maine

In Maine, where workers once had three rum breaks each day, the Woman's Christian Temperance Union is trying to reinvent itself, and sees marijuana as a new foe.

Female vets battle for benefits at home

Women have become the fastest-growing segment of the veteran population, posing new issues for the Department of Veterans Affairs.

US vet held in North Korea says he was comfortable

Merrill Newman had been detained in North Korea for over a month, six decades after he oversaw a group of South Korean wartime guerrillas during the 1950-53 war.

State-by-state look at wintry blast hitting US

A storm system has brought frigid temperatures, snow and ice to much of the U.S., causing treacherous travel and numerous canceled flights.

Satanists seek spot on Oklahoma Statehouse steps

Republican lawmakers in Oklahoma may have unwittingly opened the door to a satanic statute when they approved a Ten Commandments monument for the Statehouse steps.

Teacher describes surviving Sandy Hook shooting

Sandy Hook Elementary School teacher Kaitlin Roig-DeBellis, who hid her students in a bathroom as a man opened fire inside the school, recounts the horrors of Dec. 14, 2012, in Newtown, Conn.

Officials find 11 more dead whales in Florida

National wildlife officials in Florida discovered 11 more dead whales thought to be part of a pod that was stranded in the Everglades.

Senators: Put cameras on train tracks

Connecticut Sen. Richard Blumenthal and New York Sen. Charles Schumer say trains should be outfitted with cameras pointed at engineers and at the tracks.

Gay partner benefits growing at Fortune 500 firms

A new report finds that more than two-thirds of Fortune 500 companies and 90 percent of all large employers offer insurance and benefits to same-sex partners.

Madoff fraud still stings ex-clients 5 years later

Bernard Madoff's former clients are still struggling to move on five years after his massive Ponzi scheme was exposed.

Internet giants weigh in on defamation lawsuit

The biggest names of the Internet are blasting a judge's decision to allow a former cheerleader's defamation lawsuit against a gossip website to go to trial.

No hugs allowed? Madison targets pro cuddlers

City officials suspected Wisconsin's Snuggle House may be a thinly veiled brothel and cuddling will lead to sexual assault.

Agents feeling left out of Obamacare

Insurance agents say they can be the answer to the troubled health law's lackluster enrollment. "(The federal government) needs to realize we are the best pathway," said one agent.

Rough ride for US-Russia helicopter deal

Defense Department officials maintain that Afghanistan's forces need heavy-duty helicopters, and that Russia's Mi-17 is best suited for the mission.

Catholic school teacher fired for gay wedding

A gay teacher at a Catholic high school in Pennsylvania was fired after he obtained a license to marry his same-sex partner.

Experts urge feds to measure, pursue our happiness

A National Academy of Sciences report is urging the government to start taking our happiness into consideration when deciding matters that affect daily lives.

Missing NH girl sent letter to her mother

Abigail Hernandez was last seen on Oct. 9, but her family received a letter from her on Nov. 6.

Teen dies on flight to see relatives for holidays

A fire official said a 16-year-old boy suffered a medical emergency and died on a Delta Air Lines flight from Seattle to Atlanta.

Suffering from Alzheimer's, man fatally shot in Ga.

Ronald Westbrook, who suffered from Alzheimer's disease, left home at 1 a.m. with his dogs and was fatally shot after knocking on a neighbor's door.

Magnitude-4.5 earthquake rattles central Oklahoma

The earthquake was centered near Arcadia, about 14 miles northeast of Oklahoma City, and was about 5 miles deep, the U.S. Geological Survey reported.

Analysis: Dog of a year in Congress whimpers to end

Unless Congress acts soon, more than a million people will lose long-term jobless benefits over the holidays, and the price of milk could jump.

Govt seeks to improve safety for older drivers

The National Highway Traffic Safety Administration announced a new comprehensive safety plan to improve data on crashes and injuries.

Water issues plague new LAX international terminal

Some planes at Los Angeles International Airport have been forced to use water from bottles or tanker trucks as water at the gates is contaminated.

Pearl Harbor ceremony marks bombing anniversary

Thousands will gather on the 72nd anniversary of the attack that pulled the US into World War II.

Obama: Chances for final Iran deal 50-50 at best

President Barack Obama said diplomacy was the best way to stop Iran from acquiring atomic weapons, and that chances for a nuclear pact were 50-50 or worse.

NYC good Samaritans risk it all to save strangers

In New York City at least a dozen good Samaritans this past year were willing to risk their own safety to save a stranger.

Mega Millions jackpot climbs to $344M

Next week's drawing of the Mega Millions jackpot rose to an estimated $344 million after no one won the top prize of $297 million on Friday evening.

Pearl Harbor survivor thrives meeting visitors

Herb Weatherwax was a 24-year-old Army private living in Honolulu when he heard loud explosions the morning of Dec. 7, 1941.

HealthCare.gov transactions fail 10 percent of time

HealthCare.gov is now experiencing errors in transmitting applications about 10 percent of the time, a government spokeswoman said.

Ohio Amish girl won't be forced to renew chemo

The parents of an Amish girl who has leukemia have been a battle over chemo treatment, which the parents halted because it was making the girl sick.

Ice storm snarling deliveries nationwide

Businesses are waiting for pickups and consumers are receiving notices that their packages will be delayed because of the icy blast that will eventually hit coast to coast.

Santorum links Mandela apartheid fight to Obamacare

Former Rep. Rick Santorum offered a tribute to Nelson Mandela that linked the late South African leader's fight against apartheid to the U.S. battle over Obamacare.

Obamas light the National Christmas Tree

President Barack Obama has thrown the switch, bathing the National Christmas Tree in lights and giving an otherwise dreary day in the nation's capital a festive and seasonal spirit.

For wind power, US extends permit for eagle deaths

Companies can seek government authorization to kill eagles in the interest of green energy, including the wind energy industry.

White House changes story on Obama's uncle

President Obama had lived with his uncle in the 1980s, despite the White House initially denying they ever met.
Winter Storm Dion to Bring Snow, Ice From West to the Northeast
Winter Storm Dion, the fourth named winter storm of the 2013-14 season, will result in more snow and ice for some of the same areas impacted by Winter Storm Cleon.
Dion initially produced snow in Washington, California, Nevada and the Four Corners states during the first half of the weekend.
Now, Dion is spreading snow and ice from the Midwest to the Mid-South, Ohio Valley, Middle Atlantic and Northeast.
Deep-freeze hits large swath of US
Temperatures in Montana and South Dakota were more than 20 degrees below zero during the day Saturday while much of the Midwest was in the teens and single digits. Jordan, Montana recorded a record low temperature of 42 degrees below zero on Saturday.
About 75,000 customers in the Dallas area were without power Saturday, down from a peak of more than 270,000. Oklahoma utilities reported more than 7,500 power outages across the state and western Arkansas.
Some 400 departing flights from Dallas/Fort Worth International Airport were canceled on Saturday, about half of the usual schedule, the airport said. About 3,330 passengers had stayed overnight in the terminals on Friday night. Flightstats.com had reported that over 1,000 flights were canceled either to or from the airport on Friday.
Latest News

 

Monday, Dec 09, 2013 01:06:35 AM CST


Gene therapy scores big wins 
against blood cancers 

Monday, Dec 09, 2013 01:01:12 AM CST


Dementia cases 'set to treble
worldwide' by 2050 

Monday, Dec 09, 2013 12:50:34 AM CST


Report: German president to boycott
Olympics in Russia over human rights 

Monday, Dec 09, 2013 12:44:24 AM CST


Seizure of nuns stokes
Syrian Christian fears 

Monday, Dec 09, 2013 12:30:33 AM CST


Researchers discover massive freshwater reserves beneath
the oceans 

Monday, Dec 09, 2013 12:24:58 AM CST


11 more pilot whales die in Florida;
outlook 'bleak' for survivors 

Monday, Dec 09, 2013 12:23:24 AM CST


Powerful storm dumps snow, snarls
traffic along East Coast after
hitting Mid-Atlantic region 

Monday, Dec 09, 2013 12:22:17 AM CST


South Korea expands air defense
zone in reaction to China 

Monday, Dec 09, 2013 12:20:11 AM CST


Okla. Satanists seek monument
by Statehouse steps 

Monday, Dec 09, 2013 12:19:10 AM CST


Hundreds Riot in Singapore's
Little India 

Monday, Dec 09, 2013 12:13:18 AM CST


Number of Palestinians fighting 
in Syria on the rise 

Monday, Dec 09, 2013 12:08:00 AM CST


Thai PM Yingluck Dissolves Parliament
But Tensions Remain High 

Monday, Dec 09, 2013 12:04:41 AM CST


Lenin statue toppled in
Ukraine protest 

Sunday, Dec 08, 2013 11:33:31 PM CST


Graham weaker, but in no
'imminent danger' 

Sunday, Dec 08, 2013 11:08:43 PM CST


Netanyahu: Diplomacy must be
coupled with military option 

Sunday, Dec 08, 2013 11:07:09 PM CST


Syrian opposition head fears
US-Iran thaw could benefit Assad 

Sunday, Dec 08, 2013 12:45:27 AM CST


5,000 fans gather to create 
'Clouds' choir honoring late 
cancer-stricken teen 

Sunday, Dec 08, 2013 12:05:06 AM CST


School bans Christmas trees,
the colors red & green 

Saturday, Dec 07, 2013 12:18:14 AM CST


Secret New UAS Shows Stealth,
Efficiency Advances 

Saturday, Dec 07, 2013 12:09:03 AM CST


HIV virus returns after
cure hope rose 

Saturday, Dec 07, 2013 12:04:33 AM CST


All Syrian chemical weapons
munitions destroyed 
Back To Top



White House News

 

Monday, Dec 09, 2013 12:58:00 AM CST


Rand Paul says 'seriously thinking 
about' 2016 White House run 

Monday, Dec 09, 2013 12:17:32 AM CST


Obama salutes WTO, says small
businesses are big winners 

Monday, Dec 09, 2013 12:12:22 AM CST


Mandela trip dominates
Obama's schedule 

Sunday, Dec 08, 2013 12:37:02 AM CST


Activists urge Obama to go
rogue, sidestep Congress 

Sunday, Dec 08, 2013 12:12:07 AM CST


The venom between Barack 
Obama and Charlie Rangel 

Saturday, Dec 07, 2013 07:59:16 PM CST


Obama: Israel-PA accord would
need transition period 

Saturday, Dec 07, 2013 01:13:02 AM CST


Obama, Bush, Clinton to 
Travel to South Africa 

Thursday, Dec 05, 2013 03:45:19 PM CST


In reversal, Obama says 
he lived with uncle 

Thursday, Dec 05, 2013 12:52:35 AM CST


Young people have bailed on 
Obama. Why that matters a lot.