"Facts are not reported, they are self evident" -MJS
HEADLINERS "Top Stories" 
SECTION

HEADLINERS "US" SECTION
HEADLINERS "CNN" SECTION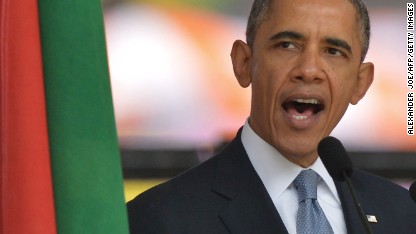 Tens of thousands of people, nearly 100 heads of state, celebrities and street sweepers are honoring Nelson Mandela, who died Thursday. 
FULL STORY
A town of 598 people will vote on a measure that would allow its residents to hunt for federal drones and shoot them down. FULL STORY | TOWN VOTES  


HEADLINERS "MSN" SECTION
Newtown's year: Horror, grief and tough choices

It's been a painful and frenetic year for Newtown, which has experienced everything from horror to despair since one of nation's deadliest shootings took place there.

More snow forecast for DC area, Appalachians

The National Weather Service issued a winter storm warning Tuesday for the Eastern Seaboard as the region braced for more snow.

Pension crisis endangers Chicago's future

Chicago is the economic capital of Illinois, but holds the dubious distinction of having the worst-funded public pension system of any major U.S. city.

Congress renews undetectable gun ban for decade

By voice vote, the Senate gave final congressional approval to a 10-year extension of the prohibition against guns that can slip past metal detectors and X-ray machines.

US vet held in N Korea says statement was coerced

Merrill Newman says North Koreans told him that if he did not apologize for alleged crimes during the Korean War he would be sentenced to prison for espionage.

Chief: Fatally shot Texas student charged officer

University of the Incarnate Word student Robert Redus was shot five times Friday by campus police Capt. Chris Carter after the two struggled when Carter tried to handcuff Redus.

Newtown seeks privacy as Sandy Hook anniversary nears

Last Dec. 14, a 20-year-old Newtown resident went on a rampage at the elementary school, shooting dead 20 children and six adults.

Wreckage of 152-year-old steamship found on Lake Huron

What exactly happened to the Keystone State and its 33 occupants in a November 1861 voyage to Milwaukee from Detroit remains a mystery.

California seeks to provide water for parched lands

The ambitious program would divert water from the Sacramento River above the delta, sending it through massive underground tunnels to provide water for two-thirds of the state's population.

High-powered traveling companions on Air Force One

President Barack Obama was joined by a former president and a former secretary of state on his flight to Nelson Mandela's memorial service.

Passenger awakes to find himself locked in plane

Tom Wagner says no United Express crew members noticed he was still sleeping on a plane in Houston before they closed up the jet.

US exits GM stake, taxpayers lose about $10 billion

The government sold its last shares in GM, leaving an overall shortfall of about $10 billion from the automaker's 2009 bailout.

Judges question need for Gitmo genital searches

An appeals court judge will decide whether genital searches will be conducted on prisoners at Guantanamo when they want to meet with their attorneys.

Auto bailout saved 1.5 million jobs, study says

The Center for Automotive Research in Ann Arbor, Mich., estimated in a study that the auto bailout in 2009 saved many jobs and preserved tax collections.

Princeton starts mass meningitis B vaccinations

Seven Princeton students and one student visitor have been stricken by potentially life-threatening type B meningococcal disease since March.

Rising riches: 1 in 5 in US reaches affluence

The "new rich" — older professionals, working married couples and more educated singles making $250,000 or more a year — make up about 25 million US households.

Push to place US spies out-and-about fizzles

Twelve years after the CIA tried to get its operatives out of embassies and into the foreign business world, the effort is being called a flop.

S.C. sheriff won't honor Mandela with half-staff flag

Sheriff Rick Clark is declining to fly the flag outside his office at half-staff because former South African President Nelson Mandela wasn't a U.S. citizen.

New American Airlines emerges as deal closes

The merger survived a challenge from the government and criticism from consumer groups, who fear it will lead to higher prices.

Obama heading to South Africa for Mandela memorial

The occasion presented an opportunity for a rare get-together of American presidents.

Tea Party fights public money for stadium

Tea Party members in Georgia are battling a Republican-led county commission over the use of public funds to build a new stadium for the Atlanta Braves.

Eight states want EPA crackdown on Midwest pollution

A group of governors led by Delaware Gov. Jack Markell say power plants in nine other states send pollution over their borders.

Cuba temporarily reopens consular services in U.S., still seeks bank

M&T Bank Corp. decided to stop offering services to foreign diplomatic missions.

Senate Democrats push Obama nominees

Democrats begin a drive this week to muscle a half dozen of President Barrack Obama's Republican-opposed nominees through the Senate.

Female vets battle for benefits at home

Women have become the fastest-growing segment of the veteran population, posing new issues for the Department of Veterans Affairs.

Temperance group targets marijuana in Maine

In Maine, where workers once had three rum breaks each day, the Woman's Christian Temperance Union is trying to reinvent itself, and sees marijuana as a new foe.

US vet held in North Korea says he was comfortable

Merrill Newman had been detained in North Korea for over a month, six decades after he oversaw a group of South Korean wartime guerrillas during the 1950-53 war.

Satanists seek spot on Oklahoma Statehouse steps

Republican lawmakers in Oklahoma may have unwittingly opened the door to a satanic statute when they approved a Ten Commandments monument for the Statehouse steps.

Teacher describes surviving Sandy Hook shooting

Sandy Hook Elementary School teacher Kaitlin Roig-DeBellis, who hid her students in a bathroom as a man opened fire inside the school, recounts the horrors of Dec. 14, 2012, in Newtown, Conn.

Officials find 11 more dead whales in Florida

National wildlife officials in Florida discovered 11 more dead whales thought to be part of a pod that was stranded in the Everglades.
18 LA sheriff's deputies face US charges

The FBI has been investigating allegations of excessive force and other misconduct at the county's jails since at least 2011.

Charges against '127 Hours' adventurer dropped

Aron Ralston, an adventurer who amputated his own forearm to free himself in a Utah canyon, was arrested on suspicion of domestic violence.

Ex-mayor sentenced for harassment

Former 10-term congressman Bob Filner learned his punishment Monday, two months after pleading guilty to one felony and two misdemeanors.

30 years for man who let others have sex with son

An Australian man was sentenced to 30 years in prison after authorities said he allowed at least eight others to have sex with his adopted boy for money.

Jury selected in Montana newlywed killing case

Prosecutors say Jordan Graham was unhappy in her new marriage and deliberately shoved her husband off a cliff while hiking a steep trail.

Trial over New Mexico 'right-to-die' law to begin

New Mexico doctors who want to legally prescribe lethal medication to dying patients are set to go to trial against existing law that charges them with a felony.

NM police officer in van shooting to appeal firing

Attorneys for Elias Montoya say the veteran officer intends to file an appeal for wrongful termination.

Defendant in UK soldier killing: I love al-Qaida

Michael Adebolajo, and fellow defendant Michael Adebowale are accused of brutally killing soldier Lee Rigby in a London street in May.

Chicago girl, 2, dies in dog attack at kin's home

The death of a 2-year-old Chicago girl was ruled a homicide after she died from injuries suffered in a dog attack at her grandfather's home.

Alabama county could be out $400, or millions

An alleged scam orchestrated by former Marshall County Revenue Commissioner Joey Masters cost the county $12 million to $20 million over three years, according to a lawsuit.

Suspect in 3 deaths lets baby go, kills self

The child appeared to be unharmed but was taken to a hospital to be evaluated.

Newlyweds allegedly killed man for thrills

Police say a newlywed couple used Craigslist to lure a Pennsylvania man to his death because they wanted to kill someone together.

Calif. hijack call leads police to 12 tons of pot

Police found $7 million worth of marijuana hidden in a tractor trailer in California.

2 inmates die of apparent overdoses at NY's Attica

The men, ages 25 and 51, were found in separate cells at the Attica Correctional Facility on Thursday.

Teen arrested in theft of part from Walker crash

A teenager accused of stealing some wreckage from the Porsche that "Fast & Furious" star Paul Walker was in when he died in a crash in Calif. was arrested Thursday.

Utah doctor tries suicide after murder conviction

Utah doctor Martin MacNeill, who was convicted of murdering his wife and faces sentencing in January, was rushed to the hospital after a suicide attempt.

Remembering the Long Island Rail Road massacre

Twenty years on, The Associated Press conducted a series of interviews with those whose lives changed.

UK marine gets minimum 10 years for Afghan murder

Alexander Blackman, a British marine, was sentenced to a minimum of 10 years in prison for murdering a wounded Taliban insurgent.

Woman at center of infamous Fla. killing set free

Valessa Robinson, who was convicted of helping her friends kill her mother in 1998, is set to be released from a Florida prison on Friday.

After teacher's death, suspect's trial in doubt

Almost two years after the murder of Montana teacher Sherry Arnold, attorneys for defendant Michael Keith Spell are seeking to have him declared unfit for trial due to mental disability.

Attorney: Ga. soldier charged in killings has PTSD

Sgt. Anthony Peden faces a possible death sentence if he is convicted of the Dec. 4, 2011, killings of Michael Roark and Tiffany York.

Man linked to cartel faces California sentencing

Juan Sillas has not been charged in the murder-for-hire case, but the criminal complaint said he offered to pay $50,000 for the killings.

Jury quickly convicts woman in false rape trial

A St. Clair County judge Thursday sent Sara Ylen to jail to await sentencing on Jan. 17. Jurors took less than 30 minutes to convict her.

Sisters of Boston bomb suspect's widow at grand jury

Three people were killed and 260 people were injured when two pressure-cooker bombs went off at the finish line of the Boston Marathon.

Man who killed parents earns conditional parole

Jeffrey Dingman was barely 14 when he and his older brother, Robert, shot their parents to death as they arrived home from work on Feb. 9, 1996.

No charges against FSU QB in assault case

The alleged incident occurred nearly a year ago, but it wasn't until last month that Tallahassee police turned over information about the case to prosecutors.

'Proven crime-fighter' chosen to lead NYPD

Mayor-elect Bill de Blasio announced the appointment Thursday, saying William Bratton is a "proven crime-fighter" who knows how to keep cities safe.

Ga. Navy contractor sentenced in $18M scheme

Anjan Dutta-Gupta is the fourth person to be sentenced in a federal probe into a 15-year scheme led by former civilian Navy employee Ralph M. Mariano.

Mars co-owner pleads guilty in fatal Va. crash

Jacqueline Badger Mars, 74, one of the world's richest women, was sentenced to a $2,500 fine after victims of the crash and family members pleaded with the judge.

On Newtown 911 calls, panicked voices, gunshots

Seven calls from inside Sandy Hook Elementary School to Newtown police during a deadly shooting rampage last December are expected to be released Wednesday.

Court hears discrimination case over wedding cake

The bakery owner faces up to a year in prison if the court rules against him and he continues to refuse to make wedding cakes for gay couples.

Death outside Kansas City stadium ruled homicide

Investigators have ruled the death of a fan in a vehicle parked outside a Kansas City football stadium during an NFL game a homicide.

Ex-paramedic in Texas fertilizer blast sentenced

Bryce Reed, a former paramedic who responded to an April 17 explosion at a Texas fertilizer plant, was sentenced on unrelated federal pipe bomb charges.

Suspect in custody after Fla. school shooting

A student was shot outside an Orlando-area high school on Wednesday and sheriff's deputies were searching for the shooter, according to the school principal.
HEADLINERS "HUFFINGTON POST" 
SECTION
HEADLINERS "KOENIG" SECTION
Pro-Israel groups change tactics on Iran deal
AIPAC and ADL, like Netanyahu, are retreating from their confrontational stance vis-a-vis the White House and focusing on shaping a final agreement
In a conference call last week, Howard Kohr, the American Israel Public Affairs Committee's executive director, advised pro-Israel activists and leaders not to confront the Obama administration directly over the "difference of strategy" between the United States and Israel on Iran. Instead, Kohr said to focus on passing new sanctions as a means of shaping a final deal.
AIPAC would not comment on the call, which was first revealed Dec. 3 in a Zionist Organization of America news release criticizing AIPAC's approach. But Kohr's advice comports with a recent rhetorical pivot by Israeli Prime Minister Benjamin Netanyahu, who initially excoriated the interim deal with Iran reached last month in Geneva as a "historic mistake."
Winter Storm Dion and Record Cold Temperatures
Winter Storm Dion will produce sleet, freezing rain, and snow in parts of the East on Monday. A second round of wintry precipitation will affect many of the same areas late Monday night into Tuesday.
We are also tracking the very cold temperatures and dangerous wind chills that continue to grip a large part of the West and Midwest.
Extreme Cold, Snow Usher in December 2013
The first full week of December 2013 has been packed full of bitter cold, snowy and icy extremes. On the following pages, we walk through some of the most interesting facts about this wintry start to December beginning with the extreme cold.
On the morning of Dec. 7, Jordan, Mont. recorded a low temperature of -42 degrees. Not far behind was Havre, Mont. with a low of -39 degrees. Sunday morning, Havre, Mont. was the coldest spot in the nation with a low temperature of -37 degrees.
Featured News

 

Tuesday, Dec 10, 2013 12:18:07 AM CST


Israelis, Palestinians, pour cold 
water on Kerry's security 'ideas' 

Tuesday, Dec 10, 2013 12:13:15 AM CST


Tech companies seek limits 
on government surveillance 

Tuesday, Dec 10, 2013 12:08:23 AM CST


US defense bill boosts funding
for joint Israel missile
defense projects 

Tuesday, Dec 10, 2013 12:04:55 AM CST


Pro-Israel groups change
tactics on Iran deal 

Monday, Dec 09, 2013 12:43:35 PM CST


Getting down to details: Iran 
and powers start implementing 
nuclear deal 

Monday, Dec 09, 2013 12:37:26 PM CST


Iran knows there is almost no chance
of strike, ex-top adviser says 

Monday, Dec 09, 2013 12:40:49 AM CST


Report: Kerry to Postpone Terrorist
Release to Pressure PA 

Monday, Dec 09, 2013 12:03:43 AM CST


5 Days Left: Congress races 
against deadlines as doc
cuts, price spikes loom 

Sunday, Dec 08, 2013 12:30:01 AM CST


Iran Announces Refusal to
Recognize Israel at United
Nations Session 
Back To Top



Latest News

 

Tuesday, Dec 10, 2013 01:00:27 AM CST


Russian news agency RIA
Novosti closed down 

Tuesday, Dec 10, 2013 12:57:31 AM CST


Chinese hackers spied on Europeans
before G20 meeting 

Tuesday, Dec 10, 2013 12:41:48 AM CST


Periplaneta japonica: New cockroach
in town sneers at a New York winter 

Tuesday, Dec 10, 2013 12:40:30 AM CST


Snow, ice cancel more
than 1,650 flights 

Tuesday, Dec 10, 2013 12:38:34 AM CST


18 current, former L.A. County sheriff's deputies face federal charges 

Tuesday, Dec 10, 2013 12:19:14 AM CST


Iranian paper fears 'trap' for
Rouhani at Mandela funeral 

Tuesday, Dec 10, 2013 12:17:22 AM CST


Now that's c-c-c-cold: Antarctica 
sets record of -135.8 degrees! 

Tuesday, Dec 10, 2013 12:16:24 AM CST


Two Senators Preparing
New Iran Sanctions 

Tuesday, Dec 10, 2013 12:09:48 AM CST


Town wants to shoot 
down drones 

Monday, Dec 09, 2013 01:16:01 PM CST


Ice, snow make Mid-Atlantic and
Northeast U.S. a misery 

Monday, Dec 09, 2013 01:14:29 PM CST


U.S. military aircraft to aid Central
African Republic mission 

Monday, Dec 09, 2013 01:03:17 PM CST


Ukraine Interbank Rates Soar to 
20% as Intervention Drains Cash 

Monday, Dec 09, 2013 12:35:49 PM CST


Spies' Dragnet Reaches a Playing
Field of Elves and Trolls 

Monday, Dec 09, 2013 01:06:35 AM CST


Gene therapy scores big wins 
against blood cancers 

Monday, Dec 09, 2013 01:01:12 AM CST


Dementia cases 'set to treble
worldwide' by 2050 

Monday, Dec 09, 2013 12:50:34 AM CST


Report: German president to boycott
Olympics in Russia over human rights 

Monday, Dec 09, 2013 12:44:24 AM CST


Seizure of nuns stokes
Syrian Christian fears 

Monday, Dec 09, 2013 12:30:33 AM CST


Researchers discover massive freshwater reserves beneath
the oceans 

Monday, Dec 09, 2013 12:24:58 AM CST


11 more pilot whales die in Florida;
outlook 'bleak' for survivors 

Monday, Dec 09, 2013 12:20:11 AM CST


Okla. Satanists seek monument
by Statehouse steps 

Monday, Dec 09, 2013 12:19:10 AM CST


Hundreds Riot in Singapore's
Little India 
Back To Top



White House News

 

Tuesday, Dec 10, 2013 12:52:50 AM CST


The Secret's Out: Obama Acknowledges Existence
Of Area 51 

Tuesday, Dec 10, 2013 12:47:59 AM CST


New caveat on Obama pledge:
Pay to keep your doctor 

Tuesday, Dec 10, 2013 12:39:33 AM CST


Poll: Obama, Iran face selling
job on nuclear pact 

Monday, Dec 09, 2013 12:58:00 AM CST


Rand Paul says 'seriously thinking 
about' 2016 White House run 

Monday, Dec 09, 2013 12:17:32 AM CST


Obama salutes WTO, says small
businesses are big winners 

Monday, Dec 09, 2013 12:12:22 AM CST


Mandela trip dominates
Obama's schedule 

Sunday, Dec 08, 2013 12:37:02 AM CST


Activists urge Obama to go
rogue, sidestep Congress 

Sunday, Dec 08, 2013 12:12:07 AM CST


The venom between Barack 
Obama and Charlie Rangel 

Thursday, Dec 05, 2013 03:45:19 PM CST


In reversal, Obama says 
he lived with uncle 
Back To Top
Inspired by God

 

 

"The men who have done the most for God in this world have been early on their knees. He who fritters away the early morning, its opportunity and freshness, in other pursuits than seeking God will make poor headway seeking Him the rest of the day. If God is not first in our thoughts and efforts in the morning, He will be in the last place the remainder of the day." - E. M. Bounds 



Friday, Aug 16, 2013 12:44:04 AM CDT


December 10: Learning From Suffering - Streams in the Desert 

Tuesday, Mar 05, 2013 01:57:42 AM CST


December 10: The Offering of
the Natural - Oswald Chambers 

Tuesday, Mar 05, 2013 01:56:46 AM CST


December 10: No Work for God Is 
Unimportant - Charles Stanley 

Thursday, Mar 12, 2009 09:36:42 AM CDT


A.W. Tozer's Daily Devotional 

Thursday, Mar 12, 2009 09:35:45 AM CDT


Charles Spurgeon's 'Morning and 
Evening' Daily Devotional 

Thursday, Mar 12, 2009 09:34:26 AM CDT


Daily Light 'Morning and Evening' 
Devotional - Jonathan Bagster 

Friday, Aug 08, 2008 07:36:37 AM CDT


Charles Stanley's Audio Messages 

Sunday, Dec 09, 2007 07:35:44 AM CST


McLean Bible's Internet Services - 
Pastor Lon Solomon: Services are 
"live" Sunday' at 9 am, 10:45 am, & 
12:30 pm (Eastern-US), rebroadcast 
Monday at 2 pm (Eastern-US) 

Wednesday, Jan 31, 2007 03:14:46 PM CST


Pastor Lon Solomon, McLean Bible
Church, McLean, Virginia - 
Sermons by Date, Series and Podcasts
Back To Top